1st April 2017
Completed
---
In 2017, volunteers of the Jura Development Trust successfully applied for funding from Foundation Scotland to maintain and improve Corran Sands as part of a wider aim to enhance walking routes on Jura.
The JDT were awarded £21,600 from Foundation Scotland, £2500 from Tarbert Estate, £1000 from the Mushroom Trust and £900 from Ramblers Trust. This enabled:
A Project Officer to be employed throughout the duration of the project
A contractor to work onsite carrying out essential groundworks such as surface levelling, building 2 bridges, ditching and creating 2 new walkways
The installation of 2 brand new oak Fingerposts
The purchase of 6 new log benches
A bin shelter to be built complete with litter pickers
The build and installation of 2 Sonic Sculptures by Giles Perring – one of which was constructed as part of a Community Art Project*
Several community workshops such as a Foraging Day, a Big Beach Clean, the creation of a Bug Hotel and an Expressive way marker painting session at Jura Music Festival
The path has been enjoyed by our human and canine residents as well as plenty of visitors since it's completion in 2018 and will continue to be a joy for all.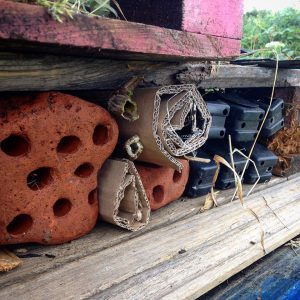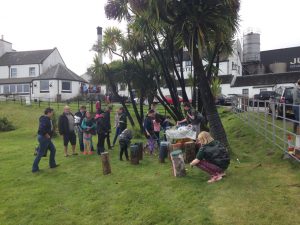 If you are visiting, we ask that you please lift your litter, clean up after yourself and your dog and do not obstruct the path with tents or vehicles.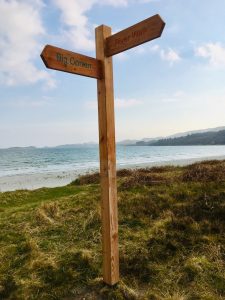 * Giles Perring is a founder member of the music sculpture project Echo City and has a music and arts studio here at Knockrome.
The Sonic Sculpture designs began to take their current form in 1983, at Weavers Fields, in London's Bethnal Green where Echo City pioneered the creation of outdoor musical play structures, which they call 'sonic playgrounds'. Echo City first came to Scotland in 1988 when they won a special design award for their submission to the Glasgow Garden Festival.
Instruments a bit like these featured for the duration of the Festival, right next to the Clyde. They may have actually been played by more people than any other individual instruments ever made. Echo City went on to build many installations of their instruments and made performances and workshops with them – and they gave birth to interactive festival music making at WOMAD in 1985.
Enjoy the instruments, become the greatest player of them that you have ever, ever heard, and please return the beaters when you have finished.
If you want to know more about sonic playgrounds and these instruments, please contact giles@echocity.co.uk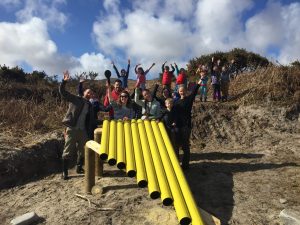 Memories weave through this silver scarf of Corran Sands,
where stories marked in the tracks lead you through
intangible magic.
Soft grains tickle little learner toes here,
water laps at tentative puppy paws here
whilst laughter chimes a soundtrack to the
Hebridean sun.
It's fun,
to be here when the wind gusts strong
and you are elementally guided along,
waterproofs whipping and white waves chasing.
It can be amazing,
to feel the bite of the sea on your skin
you will be forever running in,
grooves of sand ripples
on the grooves of your soles.
Gorse releases coconut notes into the air
whilst yogis stretch and reach
and running feet land to the batphone beats.
And rivers run too
though secret woods,
piggy backing racing paper boats
over the stones
towards the vast blue.
Watch stars dance in the sky,
no light pollution to distract your eyes.
Breathe deep and sit back, enjoy the views.
Make memories here too.
A.Dunnachie 2017