---
Please check with individual transport providers before you travel for up to date information on how to book, availability and current guidance to be followed.
---
Jura can be reached in a number of ways by public transport.
The fastest way to reach Jura is by Jura Passenger Ferry. You can also travel via Islay by taking the Calmac car ferry from Kennacraig or by daily Loganair flights from Glasgow Airport.
Travelinescotland.com offers a free public transport journey planner, it's the easiest way to plan your journey.
Jura Passenger Ferry
The Jura Passenger Ferry will resume operation on the 26th April until 28th September following strict Government guidelines and has carried out all necessary risk assessments in order to operate safely and hygienically. Nicol has also secured his 'We're Good to Go' certificate and has invested in a new larger vessel to accommodate passengers at safe distances. The booking system is available online to make your booking. Connecting services have yet to be confirmed so please always check with operating companies before travel.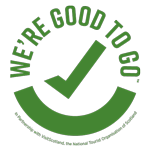 The ferry runs every summer – sailing from April to September, running every day except Tuesdays. Leaving from Tayvallich, west of Lochgilphead, you will arrive in the heart of Craighouse within 50 minutes. It is perfect for a day trip from the mainland. Full details are available at www.jurapassengerferry.com
You can travel to Tayvallich from Lochgilphead by bus – full details of connections are on the website.
Road and Car Ferry
Calmac operate regular sailings from Kennacraig to Port Ellen and Port Askaig on Islay.
The connecting ferry to Jura crosses regularly (nearly every hour) from Port Askaig to Feolin.
Download the Islay/Jura ferry timetable 1st March 2021 onwards or check the website for updates: https://www.argyll-bute.gov.uk/port-askaig-islay-feolin-jura-ferry-timetable
It is essential to book with Calmac for a vehicle crossing, you can find timetables and book online at www.calmac.co.uk. Calmac currently advise foot passengers to make a reservation.
Port Ellen (Islay main office) +44 (0)1496 730172 (press option 2)
Kennacraig +44 (0)1880 280281
By Bus
Scottish CityLink operate a coach service from from Buchanan Street Bus Station in Glasgow to Kennacraig ferry terminal. There are four buses a day in each direction but not all of them tie in with ferries. www.citylink.co.uk
The Jura Bus is operated by Garelochhead Coaches and travels between Feolin Ferry to Craighouse and north up the island to Inverlussa.
Tel: 01436 810200
Download Jura 456 bus timetable
Garelochhead website
for updates.
By Air
Flights operated by Loganair. www.loganair.co.uk
From the airport there is a bus and taxi service or you can also hire a car from D & N Mackenzie opposite Islay Airport. Tel: +44 (0)1496 302 300.
For bookings, times etc. Tel/Fax Port Ellen Airport +44 (0)1496 302 022
Sail to Jura
Facilities for Boat Users
The moorings are currently being serviced and should be available for use from the end of April. Please be aware that some businesses on Jura remain closed and there are no shower or laundry facilities available. The shop and bar both have reduced capacity and we would ask that visitors protect our island by following the guidelines, and where possible make payment for mooring by BACS to
Jura Development Trust, sort code 83 16 20, account number 00119659.
Jura's 115 miles of coastline includes a wealth of sheltered bays and inlets which have, for centuries, provided boat users with ample opportunity to stop a while and admire the island up close.
Craighouse, in the shelter of Small Isles Bay on the island's east coast, is the main hub of island life and provides a wide range of facilities for boat users. Its 16 new swing moorings offer safe harbour for boats of up to 15 tonnes and a stunning view of the Paps.
The moorings are in easy reach of the landing pontoon, installed for Easter and removed after the Jura Music Festival in September providing boat users with easy access to Craighouse.
Please note that the pontoons are for landing only. They are not suitable for yachts tying alongside but can easily accommodate tenders and RIBs. The nightly charge is £12 per mooring – paid at either Jura Stores, the Antlers or Jura Hotel. We currently operate on an honestly system and urge any users to make the requested payment as the project incurs high annual overheads and we wish to maintain the current number of moorings (16) for users benefit. Availability is on a first come first served basis. Thanks in advance for your appreciation and co operation.
Both the moorings and pontoons have benefited from recent seabed clearance work.
As if the beautiful scenery wasn't enough to entice you ashore, we have a wide range of facilities available in Craighouse. On a practical side these include:
Please note the shower and laundry facilities at the hotel are not open
public toilets
showers accessible through the Jura Hotel
laundry facilities
water, diesel and petrol
recycling bins
internet access – at Jura Service Point
Jura Community Shop
And, to enhance your holiday further, we can offer information on our What to do page.