JURA PASSENGER FERRY MAKES A SAFE START​
The Jura Passenger Ferry will resume operation on the 29th July following strict Government guidelines and has carried out all necessary risk assessments in order to operate safely and hygienically. Nicol has also secured his 'We're Good to Go' certificate and has adapted the vessel to accommodate passengers at safe distances. The booking system will not be available online due to the complexities of travel guidelines, so please contact Nicol directly on 07768 450000 to make your booking. Currently the vessel can carry 3 passengers of different households, additional passengers may be able to travel subject to their living status. Please contact Nicol to establish this.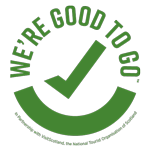 The timetable and tariff will remain the same, however connecting services have yet to be confirmed so please always check with operating companies before travel.
The JDT have secured funding from Transport Scotland and Argyll and Bute Council in order to operate the service under the Government guidelines to ensure the security of the service going forward and we would like to thank them for their continued support for our much needed passenger service. It is hoped that the service will resume as normal in April 2021, all going well.
PLEASE TRAVEL SAFELY AND FOLLOW INSTRUCTIONS ON BOARD THE VESSEL FOR THE SAFETY OF EVERYONE. THANK YOU.